Souvik Pal Memorial Scholarship
is sponsored by
Santanu Kumar Pal
(JGEC 1989 Batch) in the Memory of His Beloved Son, Souvik Pal
Above memorial scholarship Scheme is initiated as SPM Scholarship to help engineering students of JGEC who have faced financial hardship and wish to complete the undergraduate education with an attitude to fulfil social responsibilities. Santanu Pal, a kind hearted father who lost his beloved son (Souvik) in a tragic and mysterious accident, wants to spread his hands to support young aspirant engineers. This is a father's tribute to his beloved son. A father (whose roots are anchored deeply in JGEC) wants to see fulfilment of his dream through budding engineers of JGEC.
Who can apply : 1st and 2nd year Engineering Students of JGEC.
Amount of Scholarship : INR 18,000 to one 1st year and one 2nd year engineering student.
When to apply : Within 31 March, every year
Souvik Pal
Son of Santanu Kumar Pal & Mahua Pal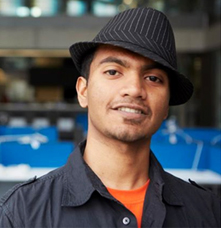 On 13 January, fans rushing into the Old Trafford stadium in Manchester to watch Manchester United's Premier League match against Liverpool were stopped by a man handing out fliers of a missing boy. It had been two weeks since Santanu Pal's 19-year- old son had gone missing, and he stood outside the stadium clad in borrowed woollens, asking football fans to slow down for a minute and look at his son's picture. He was hoping that someone in that 70,000-plus crowd would have noticed an undergraduate scholarship student from India who loved football and dancing, and also happened to work part- time as a kiosk attendant at the stadium on match days.
Pal had arrived in the city on 6 January after a phone call from the Manchester police informed him that his son, Souvik, had been reported missing from a New Year's Eve party. For three weeks, the 44-year-old engineer lived in the city his son had moved to in September 2012 and followed his trail looking for clues. He went to room 644, Cavendish Hall, of Manchester Metropolitan University, where his son had settled down barely three months ago. He met Souvik's friends, went to the stadium, walked down roads his son had walked, and visited places his son frequented on a hunt for anything that would help him find the teenager.
Exactly nine days after he stood outside the stadium distributing fliers and three weeks since Souvik went missing; Pal was called by the police to identify a body pulled out of Bridgewater canal in Old Trafford. Pal had found his older son.
The above was an extract from Open Magazine http://www.openthemagazine.com/article/international/when-a-son-goes-missing dated 16 February 2013.
Souvik was elder son of Santanu Kumar Pal (JGEC, Mechanical Engineering, 1989 batch) and Mahua Pal.
In his condolence letter to the Pals, Professor Ken Hurst, head of the school of engineering at the Manchester Metropolitan University, re- iterates that Souvik had settled in quickly and was doing exceptionally well. University Vice-chancellor Professor John Brooks led the tribute to a "special person" who he described as an "affable young man" and "fine student with great potential".
In his short stint of undergraduate engineering course at university, Souvik had developed a dumpster model as part of a project that won him a £25 'best project' award.
Souvik was a science student with an artistic bent of mind. He was a fine painter who had drawn multiple paintings and sketches. He was an ardent sport lover whose primary interest was in football. In the short time that he was at the Manchester Metropolitan University, he had been appointed student ambassador and was helping others.
The mysterious death has taken Souvik away from us. But to keep his memory alive, Santanu Pal is sponsoring the Souvik Pal Memorial Scholarship, by which budding financially challenged enthusiastic engineers will get some support to fight the hardship.
https://drive.google.com/file/d/0B8aYetJ6zu9iQ08wcFFKSWs0bDg/edit?usp=sharing
https://drive.google.com/file/d/0B8aYetJ6zu9iS09BM0Q4Q0x6RUk/edit?usp=sharing