RELIEF & SUPPORT SCHOLARSHIP (RSS)
is sponsored by
Mr. Bramha Dev Sharma
(JGEC, Mechanical 1980).
RSS Scheme is established to help financially challenged engineering students who have faced financial hardship and wish to complete the undergraduate education with an approach to fulfil community responsibilities. The money of this scholarship is supposed to be used to pay tuition and other academic expenses associated with earning valuable graduation degree from our beloved college. This scholarship is a symbolic pay back to our beloved alma mater. Theme behind this scholarship is to portray the message "Our responsibility as privileged human beings is to pay back for the opportunities we've received"
Who can apply : 3rd year engineering student from any discipline who has successfully completed 5th Semester in Undergraduate Degree Course.
Age criteria : Upper limit 22 years 0 days on 31st March of selection year.
Amount of Scholarship : INR 18,000 to one 3rd year engineering student.
When to apply : Within 31 March, every year
Top two candidates selected for
document submission for FY
Date of document submission for top two candidates at JGEC campus
Selected RSS Candidate for FY
Congratulation!
Mr. Bramha Dev Sharma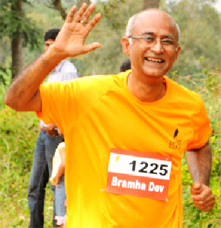 I passed out BE (Mechanical) from our beloved JGEC in the year 1980.
During inception of this scholarship, I am involved with 'Shell Technology India' at Bangalore Whitefield.
I was with ONGC for 25 yrs in areas like Bombay Offshore, R&D Mumbai, Assam and Agartala establishments, and few other organizations earlier for very brief tenures. I am staying at Bangalore with my wife. We don't have kids. We have an apartment at Mumbai but from my true heart I would like to go back to Jalpaiguri where my late father-in-law built a house, have enough of good friends, maternal relatives, sweet childhood and challenging youth memories. My father was in the Army; settled down at Barrackpore leaving his ancestral roots in present Bangladesh before we were born. We three brothers and one sister had a very humble childhood and youth. Getting in to an engineering college was a very distant dream. I remember how my family expenses used to be at extreme stress supporting my studies and hostel expenses, the hope was of good days ahead; I don't know if it is fulfilled even today.
As a humble tribute to my father (Late Harendra Nath Sharma); I would like to offer a scholarship to one from a most disadvantaged family; who is expected to value good attitude and moral.
Few of my personal traits:
Fitness freak-a regular 10Km runner
Believe a better life can be lived by practicing meditation like vipassana
My hope and political view prioritizes education and equal opportunities for all irrespective of sex, cast, creed and religion and make all out effort to free our country from corruption.