Rama Prasanna Biswas – Goodwill Scholarship
is sponsored in the memory of
Late Rama Prasanna Biswas
graduated in Mechanical Engineering stream from JGEC in 1981
Above memorial scholarship Scheme is initiated as RPB-Goodwill Scholarship to help Mechanical engineering students who have faced financial hardship and wish to complete the undergraduate education with an attitude to fulfil social responsibilities. The purpose of this scholarship is to help students understand how an achiever can struggle to pursue his dream and how an achiever can reciprocate his values for uplifting the future generation with true spirit to serve society. Theme behind this scholarship is to portray the message "Our responsibility as privileged human beings is to pay back to deserving candidates in the society who are less privileged.
Who can apply : 3rd year Mechanical Engineering Student who has successfully completed 5th Semester in Undergraduate Mechanical Engineering Degree Course with an average CGPA 7.3 and yet to Appear 6th Semester on the same curriculum.
Age criteria : Upper limit 23 years 0 days on 31st March of selection year.
Amount of Scholarship : INR 18,000 to one 3rd year Mechanical engineering student.
When to apply : Within 31 March, every year
Top ten candidates selected
for interview for FY
Date of Interview for 10 ten candidates at JGEC campus
Selected RPBM Candidate for FY
Congratulation!
Mrs. Vaisali Biswas
Wife of Late Rama Prasanna Biswas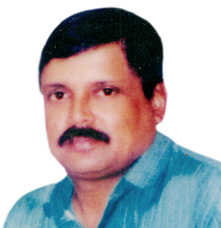 Myself, Vaisali Biswas, wife of Late Shri Rama Prasanna Biswas, heartily express my gratitude to the JGEC Alumni Association to start the noble job of extending generous hands to the budding engineers since 2013 and also would like to take the opportunity to pay a tribute to my loving husband late Shri Rama Prasanna Biswas (Goutam). Shri Rama Prasanna Biswas was born at Maynaguri in Jalpaiguri district and second among the four siblings. His father Late Shri Rabindra Nath Biswas (died in 1986), a sports loving person, was winner of one of the National Swimming Championships. Besides working in Anjuman Tea Co. Ltd. Jalpaiguri his father was associated with Jalpaiguri Youth Cultural Club (JYCC) and was also a founder of Jalpaiguri Referee Association. His mother Smt. Ashima Biswas is a homemaker and stays at Jalpaiguri. Shri Rama Prasanna Biswas tied knot in 1991 and has a son who is pursuing B.E (Hons.) in Chemical Engineering at BITS Pilani, Rajasthan as on date.
His schooling started at a tender age of two at Shishumahal, Jalpaiguri and later continued at Jalpaiguri Zilla School leaving a mark as a school captain and sportsman. Growing in a sports loving family made him fond of playing football on behalf of school and JYCC. His brother, Jhulan Biswas too is a well known sportsman in Jalpaiguri. After passing school he preferred to study engineering at JGEC even though he got enrolled in National Medical College, Calcutta the same year in 1978.
The National Scholarship holder graduated (B.E -Mechanical) in 1981 & joined Coal India Ltd., Dhanbad. A year later, he joined ONGC as an AEE in drilling section. Gathered experience in different capacities at many onshore drill-sites working 11 years in West Bengal , 3 years in Assam and 5 years in Jaisalmer, Rajasthan (near Pakistan border). In 2002, he opted for offshore duty at Mumbai High. Neither sun nor rain could fade those men working in high-risk operation but the tragic incident of the chopper crash in the Arabian Sea on that Black Monday, 11 Aug., 2003 departed them never to return. Drops of blood paving tons of crude for decades and sweat giving cubic metre gas drive the nation to a Brighter Tomorrow-a high-risk venture . To quote from the message by Veterans, the Board of Directors of ONGC -"Knowingly they volunteered with commitment and dedication for high risk operation to secure the economic well being & prosperity of our country in the same spirit and patriotism of our brave soldiers, sailors and airmen engaged in the security of our Sovereignty and Independence ".The 11 High Building ,one ONGC Base office at Bandra-Sion Link Road in Mumbai is raised high in the memory of those great soldiers. To quote his classmates & friends-"the news of his unfortunate death has come upon us as a veritable bolt from the blue. He being the bright alumnus of Zilla School and Govt. Engg. College the people of Jalpaiguri feel proud of him & deeply mourn his death."
A disciplinarian , punctual , dedicated person with always an infectious smile, very caring – those are the traits that will always hold him high in the hearts of his near and dear ones. I wish to make his ideals of life immortal through this scholarship scheme and wish his great soul remain in eternal peace .